Blob Opera
Blob Opera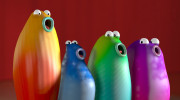 Do you love music, especially opera? Do you wish to one day create your own unique version of Opera? So what are you waiting for without trying to play Blob Opera right away? This game will help you create your own amazing opera with realistic sound in a very interesting and funny way.
Blob Opera is an online skill and music game. This game was developed by David Li in collaboration with Google Arts & Culture. What makes this game special and unique is that it uses a machine learning model trained on the voices of four opera singers to create an interactive experiment that anyone can enjoy, regardless of musical skill.
The actual vocals
Tenor Christian Joel, bass Frederick Tong, mezzo-soprano Joanna Gamble, and soprano Olivia Doutney are four opera singers who recorded 16 hours of singing. You won't hear their voices, but the machine-learning model's understanding of the sound of an operatic voice is based on what it learns from them.
Since then, the sound in Blob Opera has become more real and lively. At the same time, this also helps players easily create a great opera. You will be free to create the music you love. There will be no rules or limits for you to create.
How To Play
Your task in Blob Opera is to create an opera by controlling funny and colorful blobs. This game is extremely simple and easy to play. You just need to follow the initial instructions that the game shows up on the screen. Drag the mouse so the cute blobs can reach certain pitches in the music and make the best notes possible. Let's be creative and control those blobs according to your musical taste. The higher you drag the blobs, the more distinctive the sound they make. Alternatively, you can stretch the blobs to make the sound louder and clearer.
Blobs and it's
stage
As mentioned, Blob Opera's machine learning model is based on the actual vocals of four opera singers, so there will always be four blobs appearing to help you create a wonderful and unique opera. You can choose a place to perform for these blobs, or easier to understand, choose a stage to perform for them.
Blobbera House and London, UK, are attractive locations that most players often choose. Or New York and Mexico City are also other great and interesting places for you to change the atmosphere for your operas. Each location will have epic stages for the mischievous blobs to perform.
R
ecording time
Once you've perfected the art of opera, use the record button at the bottom left of the screen to record your performance, then share the results with your friends! You may have also noticed the option that gives your creation a festive vibe in the lower right corner.
Control
To alter the pitch, move the blobs up and down. Or go backwards and forwards for various vowel sounds. Thanks to another machine learning model, the blobs are able to react to and harmonize your input in real time.
Rules
Blob Opera is definitely a refreshing music game that will make you enjoy the opera you have created yourself. You are free to create the music you love. There will be no rules or limits for you to create, so what are you waiting for? Join the game now.
Features
Actual opera voices were used to create

Create epic music without musical training.

A variety of vocal harmonies and approaches

Character depictions are distinct and lifelike and fantastic sound

Can decide on the performance's setting and music

Make a recording and let your friends see the outcomes

No need to adhere to tight regulations

Librely compose operatic music

There is unlimited playtime
Recreate your favorite music
Your preferred video game music can be recreated with Blob Opera. This has obviously already been done by a number of YouTubers, and the results are shockingly excellent. Some of the top Blob Opera songs we discovered are listed below:
Blob Opera: Duel of Fates

Blob Opera: Halo Theme Tune

Blob Opera: Mozart K.626
Types of Users
To make it easy for anyone to compose good opera, Blob Opera uses an actual voice-based machine learning model. Specifically, the vocals of four opera singers are: Tenor, Christian Joel, bass Frederick Tong, mezzo-soprano Joanna Gamble, and soprano Olivia Doutney. That's why this game can be played by anybody. Even people who don't know anything about music.
FAQ
What is the release date of Blob Opera?
Blob Opera was released in December 2020.
Who is the game developer?
David Li developed this game, also in collaboration with Google Arts and Culture.
What platforms can Blob Opera be played on?
Players can enjoy Blob Opera via a web browser (desktop and mobile).
More games like Blob Opera
Blob Opera is unlike any other game, as you might guess. But there are a lot of musical games. Play the well-known Friday Night Funkin or check out another musical game like Gpop.io. In addition, you can just riff around with Time Jump if you want to.